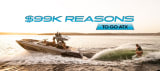 PARTY LIKE IT'S $99,999.
Be surf-ready this summer for $99,999 USD with the Type-E Power Tower with bimini, GO System, Boatmate trailer, Wet Sounds premium sound system, and boat cover.* How's that for a deal?
Get stoked for summer with the best deal to get you on the water. ATX sets you up for an unforgettable summer, giving you everything you need to surf the summer away. So grab your board, grab your friends, and get ready to shred like never before!
*Happening now through March 31st. Available in participating dealerships in the US only. Excludes shipping and freight and prep.

ALL THIS FOR 99K:
-GO Surf System with TAPS 3T
-Type-E Power Tower
-ATX Bimini with Surf Storage
-Boatmate Tandem Axle Trailer
-Wet Sounds Premium Sound System
-Boat Cover
-Raptor 400 Indmar Engine
-Two-color exterior paint scheme
-Three-color interior
-Premium GatorStep Non-Skid
-Driver's Mirror

GET MORE DETAILS
An ATX Surf Boat dealer will be in touch soon!