The Next Level.
The ATX 22 Type-S is the boat you've been looking for. It's the boat that catches your eye across the water. It's the boat that goes all out and unleashes some serious swells. It's the boat that gives you more value, storage and all-around good times. The 22 Type-S is truly the next level.

Wondering if we sacrificed hull performance in exchange for price on the ATX? Well, we didn't. When you're ready to surf, wakeboard, ski, or head home, just push 'GO' and the boat will take care of the work. No more dialing instructions, confusing set ups, or moving people around. Loaded with over 3,000 lb of ballast, the proven performance of the Convex V Hull, and TAPS 3T, your day will be epic and easy.

When it comes to functional layouts, we became ingeniously inventive. Take a seat in our standard reverse facing seat, or give your transom a transformation with the walkthrough upgrade. No matter which you choose, you'll be cruising in comfort.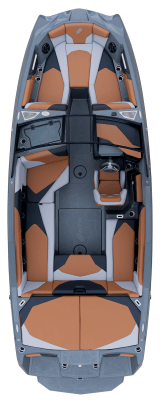 Boat Beam
102″ (259.08 cm)
Weight
4950 lb (2245.28 kg)
Ballast
3000 lb (1360.78 kg)
Fuel Capacity
57 gal (215.77 l)
Storage
101.34 ft³ (2.86 m³)
ATX 22 Type-S
I am absolutely thrilled to have this 2020 ATX 22S. I have had a wonderful experience with purchasing this boat from a wonderful company with an amazing salesman. Tony Fussell goes above and beyond to help you get the boat you want and are happy with your decision. He gets you excited about buying a boat. The best part is the availability he provides if I have any question. He is always there to help answer all of my questions after the sale. Thanks Tony for your love of watersports!
Schedule a Demo
There's only one real way to experience ATX. Let's rock!