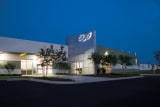 We invite you to Abilene, TX to see us up close and personal!
Tige/ATX Factory tours are fun, informative and will give you a first–hand look at how ATX achieves the highest quality, best engineered boat in the industry. Just drop us an email for more information. Please note: For groups larger than five people, please call us at (325) 676–7777 to make arrangements.
Schedule a Demo
There's only one real way to experience ATX. Let's rock!