THE ATX DIFFERENCE
Opening a new chapter in boating, ATX™ Surf Boats combines an inventive spirit, passion for performance, creative use of space, and an all-new and already iconic design. All of which are designed around the needs and demands of our owners today and future owners of tomorrow.

So, about the name ATX Surf Boats. ATX is an acronym for what inspires us and where we are manufactured - Austin and Abilene, Texas. Austin is one of the most desirable cities in the world because of its energy, fun, and technology boom. You'll find those same cues throughout our product and brand. Our headquarters and passionate manufacturing/corporate team reside in Abilene, TX where the art of boatbuilding has been fine-tuned and perfected over the past 29 years. With hundreds of employees, partners, and vendors spanning from the greater Austin area to Abilene, we could not think of a more fitting name for where the passion becomes our product.
What exactly makes ATX awesome?
GO SURF, GO WAKE, GO DO IT ALL
Wondering if we sacrificed performance in exchange for price on the ATX? Well, we didn't. Simplicity is built into its core, so when you're down to surf, ski, wakeboard, or head home, just push 'GO' and TAPS 3T will take care of the work. 3T meaning 3 TONS of pressure, and the software behind the machine will dial in the biggest and strongest surf wave. No more instructions, confusing set ups, or moving people around.
Loaded with over 2,700 lbs of ballast, the proven performance of the Convex V Hull and TAPS 3T, your day will be epic and easy.
BUILT STRONG FOR THE LONG HAUL
Take a cruise in the ATX and you'll not only see the difference, but you'll feel the difference. That's because every ATX model has a full fiberglass liner — built in to provide structural rigidity and improve ride quality. The ATX fleet weighs on average 600 lbs more than other similar sized competitors in its segment thanks to its heavy lamination schedule. Your ride will be solid, smooth, and stand strong for the test of time.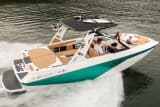 TOWER ASSIST & MASSIVE BIMINI
ATX's gas shock assisted tower is next level in style and functionality. Package up the Shock Tower with the board storage bimini and enjoy over 8' of unmatched sun and rain protection. Our thoughtful engineering makes it easy to go, easy to low, and easy to stow.
AN INTERIOR THAT GOES ALL OUT
Even when all the seats are empty, the ATX remains fully loaded. Each seating configuration was purposefully designed with your crew in mind. Sit back and soak up the sun with the built in transom seating, standard reversible seat, or the drop in cockpit and sunpad Lounge Set — all of which are unprecedented for the value segment.
PACK IT IN
The ATX gives you the room you want with the details you love.
Space and storage are both huge so that you won't have to leave anything behind. From the extremely deep storage to the bimini with board storage, every space has been mapped out for ultimate usability. The under seat storage is unmatched with room for everything, including surf boards.
It's amazing how much you can fit into your ATX, but what's even better is what you'll get out of it.

MORE ROOM FOR FUN
The ATX is up to 3″ deeper than any other value boat on the market. Keep your crew comfortable, safe, and dry.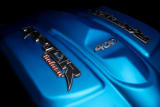 A QUIET BEAST
The 6.2L Closed Cooled ATX engines by Indmar load you up with the perfect balance of torque and a smooth, relaxed ride no matter how hard you push it. Closed cooling is critical for quality of ownership and even resale. It keeps lake water out of your engine, maintains consistent engine temperatures, better fuel economy, performance, and eliminates corrosion—all of which leads to longer engine life.
When the whole neighborhood hears about you owning an ATX and is wanting a seat behind it, fuel is going to be the least of your worries. Our unique hull shape was designed to work with the flow of water. This, combined with the 6.2L Closed Cooled engine and our precise torque ratios are sure to save you more than just your time at the pump.
WE MADE IT HAPPEN, CAPTAIN
Take a seat at the helm and enjoy a clean dash design and a clear view ahead. To the right is the ATXperience Control Center. Yes, it's a full touch screen. And yes, it gives you full control of your boat and your day. The ReCline Captains Chair reclines, slides, and has a bolster — all standard on an ATX model. Other favorites include the switch system, inCharge phone holder, RearView Camera, Bluetooth connectivity, and the ATX keyless ignition.
WE KNOW WHAT YOU NEED
You'll notice that our small details make a huge difference. For instance, our stainless steel pop-up cleats are standard, which are an upgrade on other boats in this segment. Other standard appointments include a reversible seat, Wet Sounds premium sound system, GatorStep non-skid flooring, a 7" touch screen, and a tandem axle BoatMate Trailer. Yep, all of those are included in the cost of your ATX.
SHOW OFF YOUR STYLE
We let you choose up to 5 colors on your ATX so it can truly be yours, not limiting you to just a couple colors. Or you can choose from one of our Special Editions that perfectly combines style and simplicity. Explore the Ghost Edition, Phantom Edition, and the Shadow Edition.
WARRANTY
5 Years. 360° Coverage. To help keep you sailing smooth, your boat's warranty is along for the ride. With the peace of mind that your boat's warranty will provide if needed, the experience is yours to drive. Explore it here.