WE'RE JUST YOUR TYPE.

At ATX Surf Boats, we give it everything, and we think differently. We created ATX for people like you, and people like us. It's in our DNA to be independent and rebellious. We're a family of boaters, surfers, wakeboarders, and weekend warriors, so we know exactly what you want and need for a day on the water. We put our all into ATX so that you can have it all.


WHO MAKES ATX BOATS?
ATX Surf Boats are engineered, designed, and crafted by the same team that has built the Tige Boats brand and product up to what it is today. Created for a new generation of consumers, ATX Surf Boats is a stand-alone brand that operates and manufactures alongside the popular Tige Boats marque.

Awards and innovation have been at the heart of Tige's success over the past 31 years. From Tige's very first boat in the water being named Rookie of the Year by Waterski Magazine to the introduction of our wake-shaping technology that has transformed the industry, Tige has continued to innovate and refine the art and craft of boat building year after year.
Trust and relax in Tige's 31 years of proven performance, patents, dependability, and thousands of happy owners.
TEXAS BUILT, TEXAS PROUD.
You guessed it. ATX is built in Abilene, TX in the same factory and with the same production processes as the world-renowned Tige Boats.
So, about the name ATX Surf Boats. ATX is an acronym for what inspires us and where we are manufactured - Austin and Abilene, Texas. Austin is one of the most desirable cities in the world because of its energy, fun, and technology boom. You'll find those same cues throughout our product and brand. Our headquarters and passionate manufacturing/corporate team reside in Abilene, TX, where the art of boatbuilding has been fine-tuned and perfected over the past 31 years. With hundreds of employees, partners, and vendors spanning from the greater Austin area to Abilene, we could not think of a more fitting name for where the passion becomes our product.

Drop in and see us to see all of the love that goes into an ATX.
1801 Hwy 36, Abilene, TX 79602.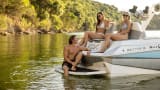 Schedule a Demo
There's only one real way to experience ATX. Let's rock!
Schedule a Demo
There's only one real way to experience ATX. Let's rock!