EXPLORE THE
22
Type-S
2024
ATX Surf Boats come standard with the 6.2L Indmar 400 Raptor Engine, which provides the perfect balance of torque and a smooth, relaxed ride no matter how hard you push it.
With more advanced technology, water-ready innovations, and premium features that come standard for increased fuel efficiency, rugged durability, and more season-after-season reliability, you are sure to experience the perfect ride.

It's everything you wouldn't expect from a base model.

WHAT YOU'LL LOVE ABOUT OUR ENGINES
CLOSED COOLED
Our engines come closed cooled standard — a feature that is nearly a $6,000 upgrade on the boat the other guys are telling you about. Closed cooling is critical for quality of ownership and even resale. It keeps lake water out of your engine, maintains consistent engine temperatures, better fuel economy, performance, and eliminates corrosion—all of which leads to longer engine life.
TORQUE-CENTRIC PERFORMANCE
The torque-packed Raptor engine allows you to push the weight demands of the sport with low RPM, faster acceleration, and less time at the gas pump.

QUIET RIDE
Combining the overhead cam engine design with the Indmar IVD Transmission results in an engine that runs smoother and quieter than any other boat on the water.
SILENT SURF EXHAUST
The Silent Surf Exhaust lets you enjoy increased air quality in the back of the boat or the back of the wave. Consider a quieter ride a bonus.
FUEL ECONOMY
Our unique hull shape coupled with a perfectly tailored gear ratio results in precisely calculated torque and up to a 30% increase in fuel economy over the competition. Your ATX won't call it a day until you do.

MORE WEIGHT, LESS RPM
Best-in-class torque and horsepower result in low RPM, giving you the ability to efficiently push the weight demands of the sport.

FUEL/H20 SEPARATOR
Our water separating fuel filter helps separate up to 98.8% of emulsified water or other particles from the fuel before it reaches the engine.
TOWSPORT SPECIFIC MARINE OIL PAN
Designed to optimize oil pick-up at steep boat angles and high G turns, the purpose-built marine oil pan takes away the worry of oil starvation.

SPLASH GUARD
The Splash Guard reduces the splashing, spray, and flowing of water onto the motor and reduces corrosion. The Splash Guard also keeps heat away from the alternator and intake, in turn keeping the temperatures down. Cooler air through the intake helps optimize performance.
Raptor 400
The Raptor 400 brings thoroughbred performance without the high-end price. Featuring closed cooling and as fuel-efficient as it is powerful, the 400 delivers undisputable durability season after season.
Raptor 440
The closed cooled Raptor 440 was designed for just that—more action. A smooth and relaxed ride is guaranteed no matter how hard you push it.
RAPTOR 460
The 460 provides you with another step up in performance. The Raptor 460 features a high torque intake manifold and high horsepower throttle body borrowed from Ford's coveted GT-350.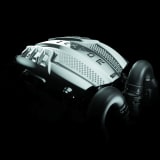 Raptor 575
The Raptor 575 is the most powerful advanced performance engine ever offered. With a 6.2L ROUSH Charged V8, 575 lb-ft of torque, and closed cooling, you can also say it's the hardest working engine in the Raptor lineup.
Schedule a Demo
There's only one real way to experience ATX. Let's rock!
Schedule a Demo
There's only one real way to experience ATX. Let's rock!