Large and In Charge.
Large, bold, capable, and comfortable, the ATX 24 Type-S turns heads, gives you more value, and unleashes some serious swells.
When you're ready to catch the perfect wave, just push GO and you'll get barrels right out of the box. Versatility and simplicity are built right into its core thanks to the patented Convex V Hull, TAPS 3T, and over 3,500 lbs of ballast. 3T meaning 3 TONS of pressure, and the software behind the machine will dial in your boat for you. Say goodbye to complicated instructions, confusing setups, and moving people around. Your day will be epic and easy.

Sit back and soak up the sun with the built-in transom seating, standard reversible seats, and drop-in cockpit, and sunpad seatbacks—all of which are unprecedented in the value segment.

Design your 24 Type-S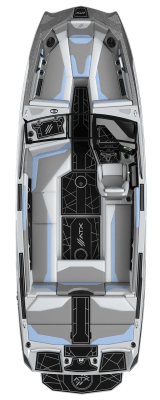 Boat Beam
102″ (259.08 cm)
Ballast
3750 lb (1700 kg)
Fuel Capacity
57 gal (215.77 l)
Storage
116.57 ft³ (3.30 m³)
ATX 24 Type-S
I looked at every other boat in this category and nothing comes close in my opinion. I went with raptor 350 hp and it's more than enough with ballast full and boat full of adults. Staff at Eagle Marine is phenomenal. Hadden, Daryl, Kandi, Colton, and Kyle have been great to work with and I would recommend this dealer if you're in Ft Worth area. This boat throws a wake that can be easily surfed 15+ ft back. Easy to set up and just go! I wouldn't change anything. Recommend all lengths in ATX.
Schedule a Demo
There's only one real way to experience ATX. Let's rock!