Large and In Charge.
Imagine a boat that delivers wake performance in a league of its own. A boat that is downright sporty, at the top of the game, and dominates in the water. The ATX 24 Type-S is all that and delivers the most boat for the buck on the whole market.
The 24 Type-S puts a premium on performance and simplicity on versatility. When you're ready to GO, so is your ATX. Ride ocean-worthy waves, rampy wakes, or throw down a slalom set at just the push of a button. The GO System powered by TAPS 3T will have you riding in seconds. TAPS 3T, meaning 3 tons of pressure, the patented Convex V Hull, and 3,750 pounds of ballast will ensure that your day on the water is epic and effortless.

When it comes to functional layouts, we became ingeniously inventive. Take a seat in our standard reverse facing seat, or give your transom a transformation with the walkthrough upgrade. No matter which you choose, you'll be cruising in comfort.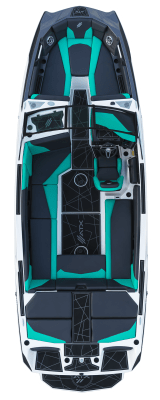 Boat Beam
102″ (259.08 cm)
Ballast
3750 lb (1700 kg)
Fuel Capacity
57 gal (215.77 l)
Storage
116.57 ft³ (3.30 m³)
Texas Tigé is a Terrific Dealership!
I am a recent buyer of an ATX. I am breaking the boat in now and am very pleased with the performance of the boat. The setup for surfing takes 5 to 10 minutes to fill the ballast systems, but everything thereafter is very quick and seamless. All the systems work perfectly.


Schedule a Demo
There's only one real way to experience ATX. Let's rock!