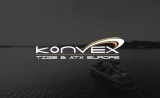 FOR BOAT is an annual boat, accessories, and water sports fair held in March at PVA Expo Praha in Prague. It is enthusiastically visited by Czechs because they are real water lovers. The offerings at the fair include motorboats, sailing boats, yachts, water scooters, and surfboards. Join Jacht Servis on March 15-17 from 10 AM - 6 PM and learn more about ATX Surf Boats!
For more information, email Martina Kosíková at jelinek@jachtservis.cz
LET US KNOW YOU'RE COMING!