International Sailors Affairs 2023 Flensburg | Germany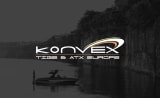 Check out ATX Surf Boats with KONVEX S.A. - Tigé & ATX Europe on September 15-17! The Flensburg boat show - International Sailors Affairs - INSA is the boat show par excellence in Northern Germany. Directly on the Danish border, INSA invites all boat and water sports fans - and those to be - to learn about boats, sailing, yachts, houseboats, boat technology and electronics, safety, yacht interiors, and much more. The fair is presented by celebrities and many interesting special shows, specialist lectures, as well as an exciting supporting program, are offered. Over 100 exhibitors and brands guarantee that there will be no boredom.
For more information, email Isabelle Lietaer at isabelle@tigeboats.eu.