Lake Keowee Marina Boat Show | South Carolina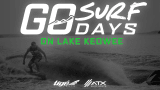 On April 22-23, join Charlotte Ski Boats at the Lake Keowee Boat Show to check out the 2023 Tige lineup! The event will take place at Keowee Marina in Seneca, South Carolina.
Times:
April 22: 10AM-5PM
April 23: 12PM-5PM
For more information, email or call Tanner Norris at 704-352-6785 tanner.norris@charlotteskiboats.com.