RESERVE YOUR NEW ATX
We're bringing the boat show right into your home with the Tige/ATX Virtual Experience! While we have boosted production and delivery capacity in response to increased demand, our delivery times are still longer than usual. After you complete your online reservation, you will be connected with your local ATX dealer and be able to browse your dealer's in-stock inventory, or finalize your custom order, just like you would at a boat show.

HOW ONLINE RESERVATIONS WORK
1. RESERVE ONLINE.
Select the ATX model below that you are most interested in and put down a refundable $500 USD reservation.
2. PLACE ORDER WITH DEALER.
Get stoked because it's time to finalize your purchase with your local ATX dealer and lock in your summer fun. If you find the perfect ATX for you and your family within your dealer's current in-stock inventory, your $500 deposit will be credited towards the stock boat. For custom orders, your dealer will help you configure your dream boat, verify pricing, and availability. Once you finalize all the information and pricing from your dealer, your purchase will be confirmed.

*Act fast if you want to be on the water when summer hits. Your ATX Dealer will be able to provide an approximate date for the delivery of your boat. Deliveries may extend into the 2022 model year.
3. LIVE YOUR BEST LIFE.
We'll take it from there! ATX Surf Boats will craft and build your boat to perfection.
STEP 1: SELECT YOUR ATX MODEL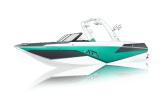 24 TYPE-S
24 ft / Seats 18

*Reservations will occur on Tige.com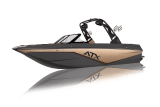 22 TYPE-S
22 ft / Seats 15
*Reservations will occur on Tige.com
20 TYPE-S
20 ft / Seats 12

*Reservations will occur on Tige.com
DISCLAIMER:

*If you do not complete an order with your dealer by February 10th, 2021 your online reservation will be terminated and you will not receive boat show incentives. Incentives are valid through January 31, 2021. By completing the reservation process, you are not ordering or purchasing a boat until you place an order with a dealer. Participation in the program does not guarantee your boat delivery. Your reservation does not guarantee a final price for the boat.