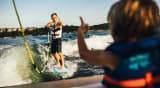 NICE!
ATX Surf Boats are powerful, precise, and versatile, and we can't wait for you to experience one for yourself. While your local ATX dealer is preparing your request, feel free to dig into our boats a little more.
GET TO KNOW ATX
ATX Surf Boats are engineered, designed, and crafted by the same team that has built the Tige Boats brand and product up to what it is today. Created for a new generation of consumers, ATX Surf Boats is a stand-alone brand that operates and manufacturers alongside the popular Tige Boats marque.
EXPLORE ATX FEATURES
ATX's 2021 features take your boating experience to the next level with more convenience, more luxury, and more comfort.
HEAR FROM ATX OWNERS
When you purchase an ATX, you don't just become a customer; you become a part of something greater. Check out some of our current ATX owner's testimonies of why they love their boats and being a part of the ATX Family.