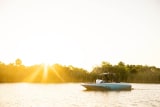 Brian and Mika Kleinschmidt
HGTV 100 Day Dream Home
HGTV's Mika Kleinschmidt designed a dreamboat for her husband Brian to match their new dream home.
Fans of HGTV's 100 Day Dream Home know that hosts Brian and Mika Kleinschmidt always surprise clients with a carefully selected extra that helps the new owners create lifelong memories. When the Tampa area couple decided to do their own dream home, Mika surprised her husband with a brand new ATX 22 Type-S boat from MarineMax Orlando. And the reaction was priceless.
As MarineMax salesman Nick Cochran drove the boat across the water to the dock, Brian Kleinschmidt was clearly shocked, stammering in disbelief, "Is that really ours? …. Oh my Gosh? …. No way? … Did you really do this?"
Finally, the truth began to sink in and delight took over as he literally skipped onto the boat proclaiming, "This is awesome!'
The journey to the big reveal, however, started several months earlier when Mika contacted MarineMax Orlando.
"I had never bought a boat before and didn't know anything, except I wanted something sleek and made for water sports. I read about the ATX online,' said Kleinschmidt. "Nick was a huge help and because he wakeboarded competitively, he knew what features were important."
Kleinschmidt and Cochran worked in secret for four months. "Mika told her husband she was checking out countertops, but we were really building different boats on the ATX website," said Cochran. "Mika chose a grey exterior with a vivid turquoise metallic accent to match the color palette of their new house, and a light grey and khaki interior to reflect the sun. It's a beautiful boat."
The ATX also has non-stick GatorStep flooring, instead of carpet that gets wet and mildewed. And when spills happen, just hose it down and allow any water to escape through the drain valve.
The Kleinschmidt's enjoy entertaining family so the ATX's standard reversible seats were a huge selling point. Just lift and rotate to face front or back. Even the captain's chair has a cut out to make conversing with those at the stern comfortable. In addition, removable backrests can be shifted to make plush transom seats.
"I love the versatility of the seating," crooned Kleinschmidt. "We've had about 10 people on board and everyone was able to lounge out and get comfortable."
The switch system InCharge phone holder with Bluetooth connectivity keeps the party going with tunes cranking through the Wet Sounds system. And when the Florida sun gets too much, the 8' bimini is so easy to deploy it can be done by one person.
As with any sport boat, storage is important to keep gear out of sight and the cockpit clutter-free. Cochran helped Kleinschmidt get all the right gear and the ATX has plenty of places to store it, including a deep area that fits a full-sized surfboard. Under the transom seats is a convenient tray for ropes and life jackets.
Standard on the 22 ATX Type S is a 6.2L Closed Cooled engine by Indmar. This quiet motor offers the perfect balance of torque and a smooth, relaxed ride, without blasting out the neighbors, something Kleinschimdt appreciates since their lake doesn't allow jet skis because of the noise. Closed cooling keeps lake or saltwater out, and maintains consistent engine temperatures for better fuel economy, and performance. It also helps eliminate corrosion resulting in longer engine life.
The best feature of the ATX though is the GO System powered by TAPS 3T. Using three tons of pressure, the TAPS 3T creates ocean-worthy waves instantly. The ATXperience control center syncs with the TAPS 3T to lock everything in place; simply choose the wave steepness or wakeboard level on the touch screen and bam, you are ready to go with the only decision being what level to surf. A RearView Camera allows the captain to keep an eye on surfers while focusing straight ahead.
Kleinschmidt never thought she'd drive the boat, but after a lesson from Cochran, she is as comfortable as her husband behind the wheel. "Driving is super easy and the controls are really user-friendly and straightforward. The (7-inch) touchscreen to the right of the steering wheel lets you control everything including music, lights, cruise control, and the waves with a simple touch," she boasted.
Truth be told, after a few months of boat ownership, the couple still haven't wakeboarded yet. Their daughter, Jade, prefers to tube, and Brian and Mika enjoy just cruising the lake to experience Florida's killer sunsets.
"Buying this boat was a really cool experience. I loved having a team to coach me along the way," said Kleinschmidt. "A boat is a big financial decision and since I was doing this on my own, I relied heavily on Nick and MarineMax. They came through with everything I asked from a tight timeline to teaching us how to use the boat, to helping me secure wakeboards, tow ropes, and other boat toys."
In addition to wakeboarding and surfing on the lake, the Kleinschmidt's are ready to take their boat into the Gulf of Mexico. "We've practiced on the lake, now it's time for the ocean," Kleinschmidt smiled. "I can't wait to go to Downtown Tampa, the Riverwalk, and be part of the Gasparillo boat parade – all the things that make this area unique."
And make for lifelong family memories.


Author: Sue Rodman via MarineMax Lifestyles Magazine