ULTRAMARIN Boatshow | Germany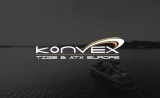 Check out ATX Surf Boats with Surfboats at the Ultramarin Boat Show on May 4-5! Around 50 new motor and sailing boats between 6 and 15 meters in length await you at our exhibition dock. Whether family boat or sporty daysailer, water ski boat or comfortable Runaboat, there is something for every taste.
For more information, email Robert Thomas at robert@surfboats.de.
LET US KNOW YOU'RE COMING!